Master's in Communication Alumni
Meet a few of our alumni from the Master of Science in Communication program.
Royd Anderson
Royd Anderson is an award-winning filmmaker and has been a featured guest on numerous TV programs, most recently in the Lifetime Movie Network's Ghost Inside My Child.
Anderson was also an invited guest speaker at Princeton University, Tulane University, Loyola University, and at the FBI New Orleans Division. He is currently enrolled in the FBI Citizens' Academy.
"The knowledge I acquired in the master's of communication program at UL Lafayette has been indispensable. I wrote and directed my first documentary, The Luling Ferry Disaster for my master's thesis project."
The success of Royd's film led to the creation of a monument honoring the victims and survivors in Destrehan, Louisiana.
"In addition to filmmaking, my teaching duties sharpened my skills as an educator, and provided a terrific opportunity to grow. The program's wide range of course work is applicable to many strata of society. I'm forever grateful to the M.S. Communication program at UL Lafayette."
Lola Arowolo
After graduating with a master's degree in communication from the UL Lafayette Department of Communication, Lola now telecommutes as Global Brand and Marketing Manager at Nabirm Global, where she was called upon to deliver speeches to government delegates and members of the Namibian parliament. She's also currently a Ph.D. candidate at the University of Texas at Dallas.
"The written and interpersonal communication skills I developed as a Mass Communications graduate student helped me land professional roles at the United Nations Office of the High Representative for Special Projects in Africa (New York, NY) and also at the Miami-Dade County Office on Capitol Hill, where I served in the public affairs arena."
While in the graduate program at UL Lafayette, Lola was a teaching assistant in Fundamentals of Communication.  She also mentored three exchange students from Qatar University as part of a USAID Middle East Partnership Initiative Grant that had been awarded to the department.  For this effort, she received the Sigma Gama Mu honor for service above and beyond the call of duty.
Lindsey Conlin
After completing her master's degree at UL Lafayette, Lindsey Conlin went on to complete her Ph.D. at the University of Alabama. She is currently an assistant professor in communication at the University of Southern Mississippi, where she teaches a variety of courses including broadcast journalism.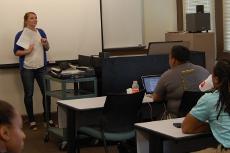 "The MS program in the Department of Communication at UL Lafayette definitely prepared me well for my career in academia. Through my graduate assistantship, I was able to get hands-on teaching experience as a master's student. This allowed me to be one of the more experienced teachers as I went into a Ph.D. program, letting me earn a teaching and research assistantship that paid for my education."
"I was also able to travel and do research with the professors at UL Lafayette, which again positioned me well for future academic endeavors, and set me up with the ability to get a tenure-track job right out of graduate school."
Donna Guidry
 Donna points out that radio and television psychiatrist, Dr. David Viscott has stated, "The purpose of life is to discover your gift. The work of life is to develop it. The meaning of life is to give your gift away." Donna discovered her gift for media in high school and and developed it at UL Lafayette, where she earned her bachelor's degree in broadcast communication and her master's degree with a concentration in advertising.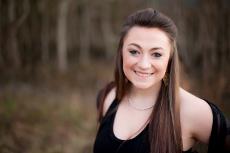 "The UL Lafayette communication program curriculum offered superior knowledge, internship opportunities, work experience and academic networking; all of which were essential to finding multiple career options, success and stability."
She shares her gift as a full time, morning radio show co-host for on 94.5 KSMB, part of the Cumulus Media cluster -- where she is also the public affairs coordinator for two radio stations (KSMB and NASH 99.1). Her love for the arts led her to directing the Dance Depot LLC since 2011, where in addition to teaching dance, she continues to learn about business, public relations, and management. Currently, she is using that experience to launch a photography business, with the intent to transform the business into multi-media venture in the future.
Brittany LaCour
After completing the CMCN MS program in 2015, Brittany accepted a full-time position at the Lafayette Economic Development Authority (LEDA),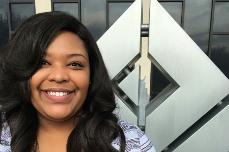 where she is a Market Intelligence Project Associate and LEDA's representative for the Realtor Commercial Alliance. At LEDA, Brittany focuses on demographic and statistical research, map building, market analysis, site evaluation and marketing. She is a member of The705 young professional group and the Society of Professional Journalists, as well a member of Alpha Kappa Alpha Sorority, Inc.
"The UL Lafayette Department of Communication master's program taught me how to apply my education to real-world scenarios. Analyzing statistics and networking are the biggest aspects in my position at LEDA, and my experiences in graduate school have given me the confidence and strategic abilities to excel in local and state government."
Bandita Parajuli
Prior to earning her master's of science in communication from UL Lafayette, Bandita held a bachelor of arts degree in development studies as well as a post-graduate diploma in environment education and sustainable development.
She worked with local government associations, I/NGOs and diplomatic missions in Kathmandu as a project and information coordinator.
After her completion of the MS degree in communication at UL Lafayette in 2014, she returned to Nepal. Soon thereafter, a major earthquake hit the region in 2015 and Bandita was involved in a disaster response program.
Currently, she is working with the largest association of self-regulated professionals in Western Canada -- the Association of Professional Engineers and Geoscientists of Alberta (APEGA).
"I feel that my specialization in Interpersonal and Organizational Communication at UL Lafayette has inculcated better understanding about the role of communication. This guided me to actively participate in the earthquake disaster response program in Kathmandu, Nepal. My role was to visit the cluster of earthquake victims, talk with them and provide a platform to express their feelings and experiences. Communication promoted connectedness, overcame the fear, and helped in this time of emergency."
Al Quartemont
Because the department's graduate-level classes are offered in the evenings, one night per week, Al was able to successfully balance family, work, and advancing his education.  Al completed his Master of Science degree  at UL Lafayette in May, 
2013 while he was serving as an Instructor of Journalism at Louisiana College in Central Louisiana.  Although he had nearly 25 years of experience in journalism, Quartemont knew he needed to complete his master's degree in order to teach at the college level, and UL provided him that opportunity. 
"The ability to take evening courses and work toward the degree at my own pace made all the difference in my ability to complete my degree, especially since I had a full-time job and was in the process of raising seven children during my academic pursuit."
Quartemont chose the Professional Project Track of the program and produced a documentary called Win Today about the 2012 Louisiana College football program. He considers the documentary the seminal work of both his academic and professional career.
In December, 2015, Quartemont left academia to return to broadcasting. He is currently the news director at KALB-TV, the NBC affiliate in Alexandria, Louisiana.
"There are few days that go by in the newsroom that I don't draw on something I learned during my time at UL," Quartemont said. "If nothing else, the ability to finish my degree taught me that all things are possible when you put in the hard work."
Laneceya Russ
Laneceya chose the non-thesis option and completed a capstone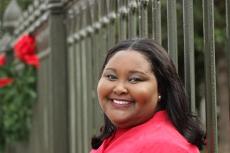 professional project related to interpersonal and organizational communication. She was able to balance school and her career, attending UL Lafayette while also working full time at Sexual Trauma Awareness and Response (STAR) as a volunteer coordinator.  She was promoted to director after obtaining her master's degree.
"The knowledge and skill development I gained from the process helped me blossom in my professional career. In fact, I was promoted to my current position immediately after I graduated from the program. My graduate journey was challenging, but in the end, it was a rewarding experience that I am thankful for."
Chasah West
Having earned a bachelor of arts in public relations from UL Lafayette's Department of Communication, Chasah wanted to dive deeper into the theories behind effective campaigns, and explore the integrated approach to communication the graduate program offered. Her goal in obtaining a master's degree was to shift her career focus from writing press releases to implementing cross-media campaigns, and she did.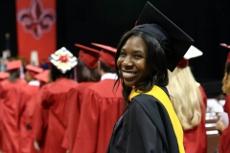 "The research and analysis I conducted for my thesis, and the communication campaign fundamentals I developed in class serve me well on a daily basis. As the Web and Social Media Director for Holbrook Multimedia, I wear many hats, handling everything from media relations to project coordination, often focusing on online advertising, social media management, and website copywriting."
Chasah West was the first student in UL Lafayette history to earn the distinction of overall Outstanding Master's Graduate in 2015. She took advantage of the Department of Communication's flexible program format -- and her graduate assistantship that paid a stipend and covered most class tuition and fees -- to pursue three concentrations: public relations, advertising, and international communication.
"I enjoyed the dynamic classroom experience at University of Louisiana at Lafayette which balanced theory and practical; allowed me to explore my interest in global audiences; and provided the opportunity to assist with academic research and travel internationally to present the findings. While at this point my career is only beginning, I know with my master's degree I've entered the competitive job arena with valuable knowledge and experience in my arsenal."